A Coat of Arms is an emblem or a device which is displayed by titled persons, persons of royal blood, and their descendants. Coats of Arms were originally used for purposes of identification and recognition on the field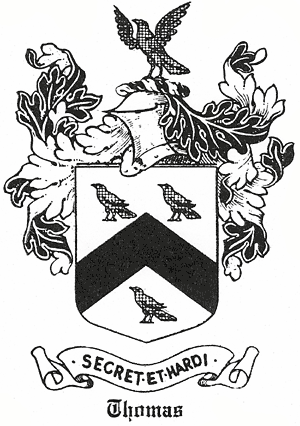 of battle as well as in civil life.
It is claimed by some writers that Coats of Arms, in a crude form, were used by Noah's sons after the flood. There are records of other Coats of Arms, in one crude form of another, at different periods of ancient history. Heraldry, however, as we know it today, did not become of much importance until soon after the invasion of England by William the Conqueror, 1066 C.E. Heraldry became of general interest at about the time of the Crusades.
The Thomas Coat of Arms shown here is the Arms of the Thomases of Wales. Coats of Arms very similar to it are used by the Thomases of Selling, co. Kent (confirmed 1622); Clevening and Brittens, co. Kent (ante 1663); and many others. Numerous other branches of the Thomas family have Coats of Arms resembling it.
This is the most widely used of all Thomas Coats of Arms. It is described in BURKE'S GENERAL ARMORY, BURKE'S LANDED GENTRY, BURKE'S PEERAGE AND BARONETAGE and other reliable works on heraldry, in some cases accompanied by illustrations and pedigrees. THE THOMAS BOOK, published in New York City, 1896, records it as the Arms of Sir Rhys ap Thomas (Knight of the Garter), the Thomases descended from him, and many allied lines. It has been used for generations by other American branches of the Thomas family. —
Thomas Family History, Lewis J. Thomas and James Lewis Thomas