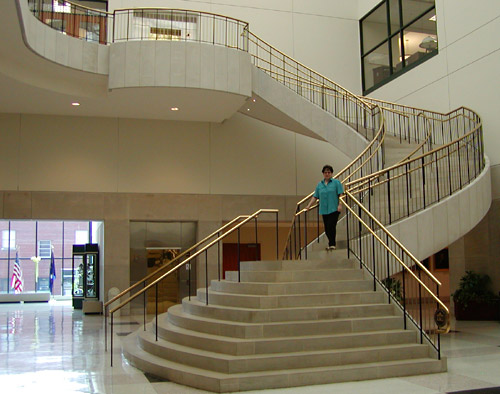 Betty Thomas Finger at the
Kentucky Historical Society, Frankfort, KY
From the Researcher
We are now into our fourteenth year on the web. It is thrilling to hear from so many Marchant Thomas descendants and I appreciate all the additions, corrections, and clarifications.

My husband & I have made regular research trips to Kentucky and to Washington, D.C. At the National Archives we researched the Eastern Cherokee Applications for the Sizemore families and spent much time researching Civil War pension records.

Our trip to Kentucky in 2005 included a visit to the the William T. Young Library at the University of Kentucky in Lexington, where we spent a few hours viewing microfilmed copies of the old Three Forks Interprise newspaper of Beattyville. In Frankfort, we made copies of Confederate Pension Records at the Kentucky State Archives and spent some time looking for old historic maps at the Kentucky Historical Society (picture above).

For my Thomas information, I have made it my policy to go to the most direct source possible. I have consulted vital records, census records, pension records, and, wherever possible, I have talked to or contacted direct descendants of each line. At times I have used other sources as a starting point, such as the John J. Dickey Diary and the Arch & James Bowman Works, and then tried to verify them with what sources are available today.

My research has included personal visits to Owsley County, Kentucky to interview descendants of Marchant Thomas and to document the Griffith Cemetery with photos and research, as well as a fruitful visit to the Owsley County Library. We have also made research trips to the Breathitt County Library and Historical Society, the Clay County Court House and Historical Society, the Kentucky Historical Society in Frankfort, KY, two trips to the South Carolina Archives in Columbia, and the NARA (National Archives and Records Administration) in Washington, D.C.

Accuracy is VERY important to me and I would appreciate it if you would notify me of any inaccuracies or discrepancies you notice on my site. Together we can make this a complete and accurate Marchant Thomas genealogy site. Please contact me with any comments, corrections or additions.

Let's build a valuable & reliable Marchant Thomas descendants website!

Thanks to all of you Marchantonians out there who have contributed to my research.

---